Testimonials
The following comments are taken from cards and letters over the years...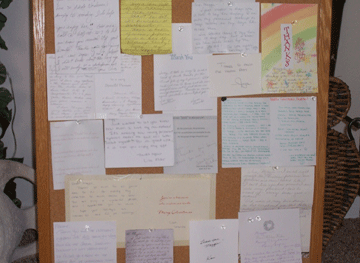 "Thank you for my fantastic eyebrows. It is so wonderful to wake up to eyebrows every morning AND they don't rub off! I can't express my gratitude to you. I feel so good inside. Thank God for you and your expertise." - Kathy H.
"I love my brows and made a new friend. What more could a person want. I can't say enough good about what you did. Thanks." - Deanna
"Getting out of the house in the morning is hard enough, with having to get kids ready for school and daycare and myself ready for work. I never have time to do my makeup. Having you apply my permanent eyeliner and brows was the BEST thing I ever did for myself! I now can walk out of the house each morning with perfect makeup! It gives me a lot more confidence. I love it! Thank you so much!" - Tamara C.
"I can't tell you how pleased I am with my eyebrows....no one seems to notice what I did except I get a lot of compliments that I look great." - Louise W.
"Just wanted to thank you for the great job you did on my eyebrows. Not only do they look incredible, they make me feel fabulous. Before getting my eyebrows done I felt like things would never be the same after chemo. Losing my hair, lashes and brows made my self esteem low. Now every time I look in the mirror I feel a lift in my esteem. I also want to thank you for being such a wonderful person. I believe you were put on this earth to help people when they are feeling down on themselves. You are a very caring person." - Sally
"Thank you so much for the beautiful job you did on my eyeliner and brows. It is such a blessing to run into kind-hearted people such as yourself. Thank you for being a bright spot and for all the conversation and laughs." - Janene N.
"Thanks for the great job of my eyebrows...you did a beautiful job." - Deana P.
"I am so happy with my permanent makeup or my "tattoos" as my boys like to call them. I've started chemo and my hair will go any day, but I know it's been easier by the work you did." - Eileen I.
"Thank you for the excellent eyebrow job! And thank you very much for the special wedding discount." - Jane
"Thanks so much for all you've done for me and for making my condition so much easier to bear. You are truly a wonderful person and I appreciate you so much." - Shanda
"I love my new eyebrows! It's amazing how having permanent eyebrows makes me feel 100% better about myself! You do great work." - Lisa M.
"I am enjoying my new eyebrows and eyeliner! It's fantastic! I wish I had done it years ago." - Anita S.
"Thanks for all your artistic talent done on my eyebrows, eyeliner and lips! I feel prettier than I did before, and when you're in your forties, all that stuff is important." - Cheri P.
"Thank you so much for the new look! It is so much more than I expected. I love the work! And everyone else does also; I get compliments almost daily! And going to my class reunion was a hoot! People thought I looked so much younger than in school, but couldn't figure out why." - Julie N.
"At least 5 people have requested your name and location. A beauty salon stated they had your card hanging up but had no idea that you did such wonderful work and excellent results." - Vicki O.
"Thanks again for giving me new eyes- I can't believe I didn't know about this long ago. I will surely be a spokesperson for you." - Tammy K.
"Have had lots of compliments on my eyebrows. I'd let you work on my face anytime." - Sally S.
And a few more comments from yellowpage reviews....
"Maggie - the very best in her field. Be careful who you choose. I had gone to K---- and was very unhappy with the results. After several sessions, I asked if they would refund my money or part of it, so I could go elsewhere to have the work redone. I wasn't treated with the respect I deserved as a customer, and was shown no empathy for my issues. Refund - ABSOLUTELY NOT! They offered to give me more sessions to try to make things better, but after so many times of this already, I decided against it. Then I met Maggie. Besides being a true professional, she is one of the nicest, considerate people I have ever met. At the very beginning, she offered to give me a price break, because I had been a cancer patient. When I told her that K---- wouldn't give me any refund, she immediately wanted to fix my brows, and charge me only for the materials used. Having only just met her, I was shocked that she would do this for me. I accepted her offer and I am very pleased with what she has done for me." - Marilyn S.


"I'm truly funny about my face. I've been a customer of Maggie's for years and she's the only one I've ever let do anything to me. I've got just about everything done from her and I couldn't be happier with the outcome! She's definitely one of a kind and "hands down," best in the business! Thanks SOOOO much Maggie! - Katie Denn


"Maggie is truly the best. I have been a customer of Maggie's for 12 years and would not trust anyone else! I know when I go in I will leave looking great!" - Carrie C.


"Maggie Kripper is an artist! I just had my eyebrows done and Maggie makes my eyebrows look like they are naturally mine. They look like real eyebrows. Maggie is just simply the BEST. When I think how I used to pencil my eyebrows on (and they still didn't look good) and how much time this used to take, having permanent eyebrow is so wonderful. I have gotten lots of compliments on how great my eyebrows look. Now I can shower or swim and still have a face on. Thank you Maggie for being so good at what you do. I would recommend you to anyone who needs to have permanent eyebrow done." - Pat Halama
"I had my eyebrows done and it was a total botched job! I found Maggie and she has worked with me for ONE year to fix them! She has done an awesome job! I finally have my self confidence back and feel like I can go out in public again! She is not only a great artist at what she does, but a wonderful person who wants only the best for you! Thanks Maggie!" - Jan S.
"Had a GREAT experience with Maggie! Went there with my mother for permanent eyeliner and both of us came out very pleased! It took about 30 minutes for both eyes and the discomfort was very minimal! Maggie is professional and wants to make sure you walk out of there looking your absolute best. I have recommended her to many friends and family! I even went back a few weeks later with my friend to get hers done and she loves it too!! Do not go anywhere else or you will regret it! Thanks Maggie!!!" - Natalie Nicole
"I had contemplated having eyeliner done for 5 months. I did a lot of research on the process and people who applied it. I chose Maggie because of her experience and knowledge. I am SO happy with my decision. She is AWESOME!!! My only regret is that I didn't do it 20 years ago!!!!" - Mary J.
"After many years of watering eyes with eyeliner running down my face. Red sore eyes, I found MAGGIE! My girlfriend said I needed to get my eyebrows done permanent, I checked around and both my girlfriend and I decided on Maggie to do our work. No, she wasn't the cheapest, but boy is she the best. After we had our eyes done my daughter came down and had her eyeliner done too. She was so AWESOME and would tell everyone to check her out. The best thing I ever did for myself ever! Thank you Maggie for making me such a happy girl!"
Call for your consultation today! (715) 833-2229